Shukkeien 400th Anniversary Commemorative Events
Shukkeien 400th Anniversary Commemorative Events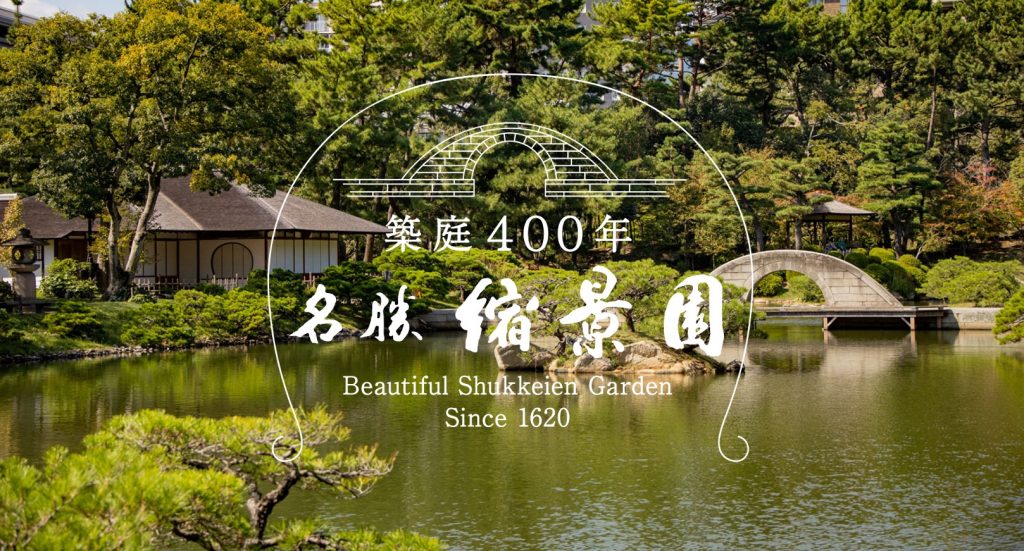 400 years have passed since the creation of Shukkeien, a designated National Scenic Beauty of Hiroshima Prefecture, in 2020. Various events and exhibits were ongoing to mark this commemorative year and present the garden's attractions, including concerts, guided tours, and introductions to related works of art by curators.
Shukkeien was created in 1620 by renowned warrior and tea master Ueda Soko by order of Asano Nagaakira, daimyo (lord) of the feudal Hiroshima Domain. It was one of the earliest among daimyo gardens built throughout Japan, and it is now a favorite destination for local residents and visitors alike to appreciate the seasonal wonders of nature in the heart of urban Hiroshima.
We welcome you to enjoy the splendor of Shukkeien and feel its 400 years of history.
Shukkeien – Its History from the Edo Period to the Present
Shukkeien was created in 1620 as a villa garden for Asano Nagaakira, the first daimyo (lord) of the feudal Hiroshima Domain, by his chief retainer and renowned tea master Ueda Soko. Originally called "Sensui" or "Sentei", the garden acquired the name Shukkeien ("garden of shrunken scenes"), from the opening line of a poem written by Confucian scholar Hayashi Razane, at the request from second daimyo Asano Mitsuakira: "Landscapes shrunken to that place, and views gathered to this tower."
After losing many of its structures in the Horeki Fire of 1758 and undergoing a major restoration starting in 1783, the garden was donated by the Asano Clan to Hiroshima Prefecture in 1940, and was designated as a National Scenic Beauty the same year.
Just 5 years later in 1945 the garden was severely damaged by the dropping of the atomic bomb on Hiroshima, but after a long restoration process from 1949 to 1974, the garden was fully restored to its current state.
"Midare" ("Turbulence")
"Oimatsu" ("Old Pine")
"Hanamomiji" ("Flowers and Colored Leaves")
"Akikaze No Kyoku" ("Music of Autumn Winds")
"Zangetsu" ("Moon at Dawn")
"Aki No Uta" ("Songs of Autumn")
"Kagaribi" ("Bonfire")
"Kyochikuto" ("Oleander")
"Aki No Shirabe" ("Melody of Autumn")

"Clair de Lune"
"Autumn Leaves"
"Eine Kleine Nachtmusik: 2nd Movement"
"Miagete Goran Yoru No Hoshi Wo" ("Look Up at the Night Stars")
"Shukkeien and Period Art of Hiroshima"
"400 Years of Shukkeien Garden – Introduction to Its Many Attractions"
"Shukkeien and Hiroshima"
Ueda Sōko Tradition of Warrior Tea – A Tradition of Elegance
  
"Guided tours of Shukkeien"
"Commentary by Garden Supervisor Tadakazu Saito Shukkeien – A Forerunner of Daimyo Gardens The thoughts of the daimyos and designers behind its creation and renovation"
"Commentary by Garden Supervisor Tadakazu Saito Koko-kyo  The bridge that symbolizes Shukkeien"
"Commentary by Garden Supervisor Tadakazu Saito The symbolism of tsurushima (crane islands) and kameshima (turtle islands)"
"Commentary by Garden Supervisor Tadakazu Saito Eiha-kyo, Shosen-kyo and Boshun-lyo The trio of bridges leading to enlightenment"
"Commentary by Garden Supervisor Tadakazu Saito Yunen-jo The most important part of the garden"
"Commentary by Garden Supervisor Tadakazu Saito Azumaya (arbors): Tea rooms for the daimyos"